By
crodmahr_wp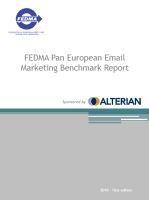 E-mail marketinške aktivnosti nastavit će s rastom, a email kampanje se umnožavati pokazuju to rezultati 2010 Pan-European Email Marketing Benchmark Studije.
Rezultati istraživanja pokazuju da 72,3% ispitanika planira slati više marketinških poruka email poštom, i praktički nitko ne očekuje da će ne manje. Ipak, stopa "odjavljivanja" (opt out) ili "prekidanja pretplate", kao udio ukupnih količina očekuje da će biti stabilan. To pretpostavlja bolje ciljanje unatoč veće količine emailova.
Prema mišljenju ispitanika uključenih u studiju o e-mail marketing u 2010. broj e-mailova koji stižu na poslovne adrese organizacija tijekom sljedećih 12 mjeseci povećat će se za 62 %.
Više o studiji možete pročitati ovdje.